101+ Best Wall Mirrors With Shelves
Wall mirrors with shelves have long been associated with boring pieces placed in tiny bathrooms for their function, rather than their looks. But times have changed, and these days, you can find lots of beautiful decorative wall mirrors that come with a built-in shelf.
Not only are they are practical, but they are also capable of becoming an integral part of your interior design, blending in seamlessly with your wall decor.
In this post, let's explore the best wall mirrors with shelves and ways to use them to the best effect!
Here's what we will be covering: 
[block id="7091″]
101+ Best Wall Mirrors With Shelves Collection
[products category="563″ columns="3″ limit="300″ orderby="price" order='asc']
How to choose a wall mirror with a shelf?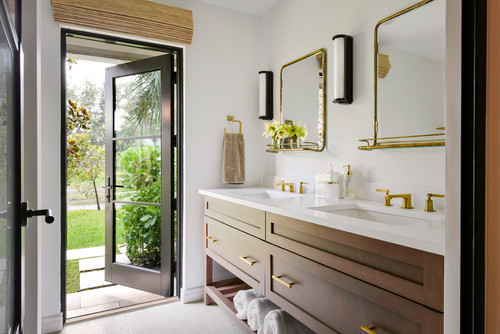 Since it is not that common to see people decorating their homes with mirrors with shelves, where do you start?
I've got some ideas for you:
Entryway mirror with shelf – consider using one near your entryway, where it serves the dual purpose of holding your keys or wallet as well as being the last vanity check before heading out. A nice gold finish would add a touch of elegance and glam to the look, or you can easily find rustic designs to suit farmhouse looks. It saves space and you will never need to hunt down your keys anymore!
Bathroom wall mirrors with shelves – this is probably a no brainer, as many households use them. But how do you take it up a notch then? You can start by choosing a nice little pharmacy mirror that is an excellent space saver and gets things organized quickly. Use it to put together items like your toothbrush, perfume, shaver, or if you have a small slot left, consider placing a tiny indoor plant like a succulent. Black frames would do well in most homes, but you know what would be even better? Set up 2 of these side by side to create a double vanity setup (if you have space, that is)
Try a shadow box frame mirror in the hallway or living room – The frame lends a unique design to your home and allows a small ledge for you to place tiny trinkets (possibly something from your travels?). I love how the simple design can instantly create a level of depth to your walls and become a conversation piece. Alternatively, you can look for a hallway mirror with a shelf and hooks too.
Look for odd-shaped (asymmetrical) wall mirrors – They are perfect for any plain walls that need a little bit of an upgrade. On its own, it stands out perfectly, and when paired with some accessories, they become a masterpiece.
Arch wall mirrors with shelf – While it may not be that easy to find them, these unique mirrors are in my opinion one of the most underrated home decor. Any home, be it small or large, can do well to have at least one of them, as they can turn an empty wall into a "new window", bringing and bouncing off light into your home.
Last but not least, you can make use of wall mirrors with lights that come with a shelf or two. They are the ultimate in functionality and makes you look good while dressing up!
There are some alternatives to the basic wall mirror with shelf if you wanna tinker a bit. I have seen variations in the marketplace where they have wall mirrors with shelves and drawers, mirrors with shelves on the side, or even full-length wall mirrors with shelves!
How to DIY your own wall mirror with a shelf?
I tried out a simple project previously. I am not trying to brag, but I think it's pretty genius since it is so easy to do it.
All you need is to find a wall mirror (duh) with a flat base, or two (if you want fancy), a wooden shelf, and a few basic tools.
What you will need to do is simply align the bottoms of the mirrors with the piece of wood, creating a symmetrical look! (the image below tells the story)
The cool thing is that you can really try out so many different styles with this method, be it double shelves, square mirrors, vintage mirrors, or whatever rocks your boat. (round mirrors wouldn't work too well here)
Now you can really have a unique wall decor to dress up with!