90+ Best Wall Mirrors with Lights
Picture that scene where the gorgeous actress is touching up her makeup or styling her hair just before her scene, and I think of Audrey Hepburn.It stirs up feelings of glamor and sophistication, and many young girls probably grew up thinking, hey, I need one of those wall mirrors with lights and make myself feel like a mega pop star!Unfortunately, the truth is those old school mirrors with lighted bulbs were actually quite energy inefficient and emits a lot of heat, making it rather uncomfortable if you are using them in your own home. Luckily, we have them in energy-saving LED lights now.And fret not, as there are lots of other different options these days to fulfill your fantasy, while not breaking the energy bill.They also serve as a practical yet unique approach to styling your home.I have rounded up a bunch of the best wall-mounted LED mirrors for you to choose from, so be sure to check them out!What's in this post: 
[block id="7091″]
---
Best Wall Mirrors with Lights
[products category="562″ columns="3″ limit="300″ orderby="price" order='asc']
---
Where to use full-length wall mirrors with lights?
It is nice to have a lighted-up mirror in the bathroom, but for some of us, there might be space constrain and thus we can't actually see our entire look.Where's the pleasure of dressing up for a night out when you can't preview it first right?In comes the full-length wall mirror with lights. You are going to feel like a superstar!I have had the pleasure of owning a few of these in my lifetime, and I place them in:
Bathrooms (we had a really large bathroom once)

Corner of my bedroom

Walk-in wardrobe

Next to the entryway
The great thing about some of these full-length wall mirrors is that some of them come with armoires and shelves and many other useful features. Although the usual shape you get will be rectangular ones, there are other shapes available to jazz up the room too.We showcase some of them in the section above.
Why you should choose an illuminated mirror in the bathroom?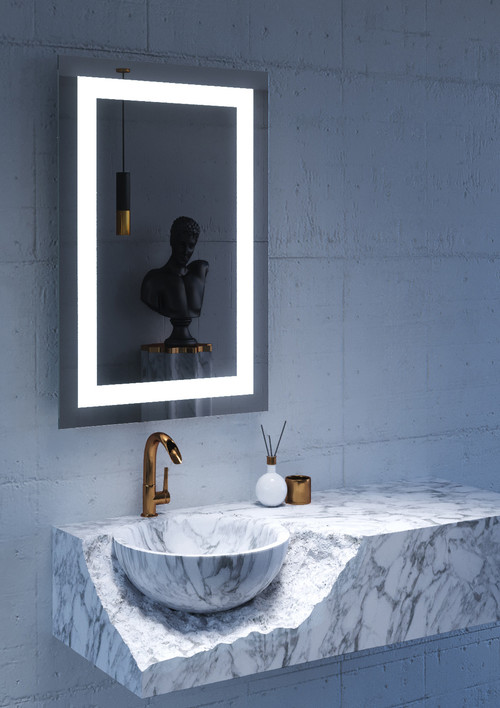 In the modern bathroom, there are 2 critical components: lights and the mirror.You can either choose to install matching lights at the sides of the hanging mirror or choose to go with a wall-mounted vanity mirror with lights.How you make your decision generally depends on the style you wish to achieve, the amount of space you have, or a combination of these 2 factors.The cool thing about illuminated mirrors is that it solves both of these issues immediately while giving a luxurious and glam appearance to your bathroom. Try mixing things up with a round mirror too.Having a 2 in 1 mirror can maximize the space available as well as provide a functional piece for you to make up or dress up.The installation is also more straightforward, versus having to put up another 2 wall lights.Another reason I really like a backlit mirror is that they create a sense of drama, kind of like in a nice hotel or spa. This is one very simple thing you can do to instantly transform your bathroom or even your bedroom for the matter.If you already have a regular mirror in place, you can consider adding LED strips to the frame or edges of the mirror to create a similar effect.
Do lighted mirrors provide enough light?
The nice thing about having a light-up wall mirror is that they provide an even light source, which is perfect when you wish to doll yourself up, or just prepping your hair or during shaving.They don't cast shadows which means that you can now get ready in the clear, and they make you look good like movie stars!One important tip that I have for you is to not use backlights or spotlights on your mirrors.Backlights create a halo effect (unless you want that for some reason), and spotlights are pretty harsh and cast lots of shadows.Not ideal for dressing at all.
What's next after wall mirrors with lights?
Continue exploring more of our wall mirror collections! Alternatively, here are some of our most popular articles: