10 Best Wrought Iron Mirrors
Wrought iron was used to make furniture dating back a few hundred years ago and is now a mainstay in home decor. They are elegant and refined but at the same time, a good craftsman can also bring out its powerful and strong features, making it a very versatile and unique piece of material to have in your home.
This particular material is popular around many households whether they are fashioned in industrial or modern styles, and it can be quite hard to hunt them down since supplies are limited, likely due to their handmade nature. They can be made into many different types of furniture such as wall mirrors, shelves, chairs, and tables.
In this post, let's look at the prettiest wrought iron wall mirrors that you can get your hands on and also learn a touch more about where they came from.
[block id="7091″]
---
10 Favorite Wrought Iron Mirrors Collection
1. Wrought Iron Mirror with Pine Tree Motifs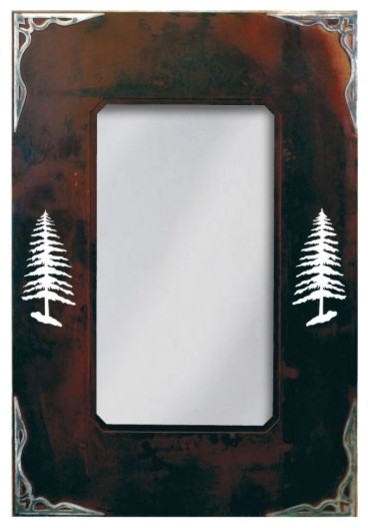 ---
2. Wrought Iron Mirror Damask Style with Rust Patina
3. Star Beveled Wrought Iron Mirror
4. Wrought Iron Mirror Desert Diamond
5. Hoop Beveled II Wrought Iron Mirror
6. Suspended Beveled Wrought Iron Mirror
7. Dome Beveled Wrought Iron Mirror
8. Wrought Iron Studded Mirror
10. Wrought Iron Frame Rectangle Wall Mirror Brown
---
What is wrought iron?
It is an alloy that is similar to iron but with a much lower carbon content. That meant that wrought iron is highly malleable, making it a perfect material for many purposes, including furniture making. They are very tough and does not corrode easily, allowing us to place them indoors as well as outdoors.
A defining feature is that when fully bent, you can actually see a "grain" very much like wood does.
Today, there isn't much wrought iron being produced commercially and they have been mostly replaced by mild steel. You can also expect that most wrought iron furniture is handmade, adding to its uniqueness and exclusiveness.
What is the difference between wrought iron and cast iron?
To put it simply, wrought iron is heated up to soften the metal before working on it. In past times, "wrought" means worked.
In contrast, cast iron is melted before allowing it to cool in a mold (casting).
The 2 materials may have similar names but they do not share the same properties.
As you might know, cast iron is an extremely hard material and is nonmalleable. The opposite can be said of wrought iron.
Here's a video that explains things better.
What kind of home styles can you use wrought iron mirrors?
There are a number of styles that a wrought iron mirror can potentially fit in very well.
Since it is handmade, a bohemian home can certainly accommodate one.
On the other hand, there are various designs such as antique wrought iron mirrors or full-length wrought iron mirrors that can blend in to homes that have mid-century modern interiors or even minimalist styles.
More here.
What's next after wrought iron mirrors?
These special mirrors are few and far between, so each time I come across one, it's a real treat. I have to admit unashamedly that I would give in and purchase one without thinking where I can hang it!
I hope you find the small collection here suitable for your home and don't forget the check out our other mirror articles where you can find the best garden mirrors, how to care for mirrors, picking the right mirrors, and much more!
Also, be sure to look through our other wall mirrors collections found all over our blog!