It's the most wonderful time of the year! So sings Andy Williams and I must say I heartily agree. I love Christmas, and so does my family. 
Lots of gift exchanges, gatherings with family and friends, and so much good food to go around! 
But when it comes around, it also means I need to step up my Christmas Wall Decor game. 
I love a good old traditional Christmas layout, but also add in my own creativity and ideas to personalise the decorations. 
What about you? What kind of Christmas decor are you putting up this year? Or are you in search of ideas? 
You have come to the right place, as I show you some Christmas Wall Decor ideas and where to get them!
The only way this site can exist is through support from our readers. How? By reading and sharing our articles as well as shopping! Yes! There are affiliate links to sites like Amazon, which gives us a small commission when you buy something. The great thing is that there is absolutely no cost or increased price to you, so happy shopping! More details here. 
So why do we celebrate Christmas?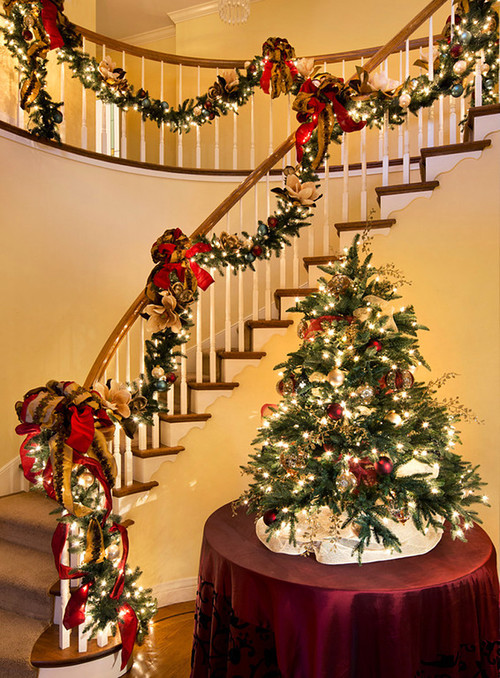 Photo by – Search staircase pictures
Most of us experienced Christmas celebrations right from the moment we were born. That's really no surprise since Christmas is one of the most widely celebrated holidays in the world. A lot of people will know the origin, but some might not know or have forgotten, particularly if they are nonreligious. So here's a short summary of why this day is being celebrated. 
Christmas has a significant place in the hearts of Christians, as this day is used to mark the birth of Jesus. The cool thing is that Christians and non Christians alike celebrate this day, and I guess it is because of the presents! 
What are some traditions of Christmas? 
Gift exchange is one of those things that people love about Christmas. People tend to open up and become more generous during this time of the year, opening up their wallets to get gifts for their loved ones. 
Throughout the world, there are many different traditions being practiced which are really interesting. 
It is really a universal holiday! Don't believe me? Here's a few I bet you have never heard before: 
Giant Lantern Festival in Philippines
The Creature, Kramus, taking to the streets to terrorise naughty kids. While this might seem like a Halloween tradition, it actually happens during Xmas in Austria! 
Having Kentucky Fried Chicken on Christmas Day in Japan 
Hiding of brooms on Christmas Eve in Norway
Christmas Day barbecue in New Zealand
Fascinated? I bet! 
What are the most common Christmas decorations being used?
There are certainly a few popular ones that come to mind, such as bells, stockings and candy canes. I love those, and I always make sure to have a number of them spread around the house come Christmas time. Besides them, I would be sure to include these too: 
Christmas Tree and ornaments
Santa Claus figurines 
Rudolph figurines
Elves figurines
Door garland
Christmas cards
Pinecones
Stars
Presents 
Candles 
Anything red, green, and white! 
Ok, how do I decorate a Christmas wall?
Glad you asked! I do have some ideas for you to consider, and later on, check out some real-life examples to get more inspiration! 
Put up traditional signage in your home entryway 
Add berries (fake ones of course!) to garlands to brighten things up
Spread pinecones and red and green blankets around the house 
Convert a wooden ladder into a display piece by placing ornaments on each step
Add a bunch of Christmas wall art around the house, either displaying quotes or cute pictures
Bring out the red and white dishware! 
Hang gifts on the walls instead of just below the Christmas tree
Place your favorite wall photo frames next to a beautiful accent wall mirror
Christmas Wall Decor Ideas and Inspiration!
While you are shopping…
We endeavour to show you items in the rooms we showcase, but sometimes they just aren't available, that's why you will see the closest match. Also, we love home decor too, so we will recommend items we adore as well 🙂

1. Traditional Living Room Mantel, Seattle
Photo by It's The Little Things… – Discover living room design ideas
–> SHOP THIS LOOK
2. Christmas Farmhouse Bedroom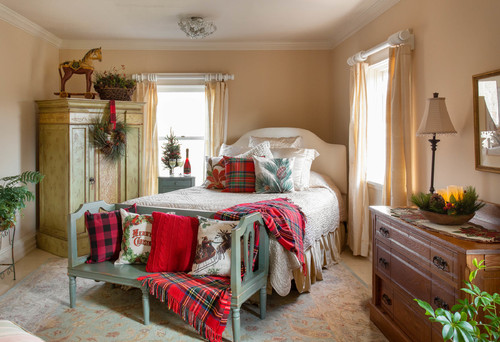 Photo by Rikki Snyder – Browse bedroom ideas
–> SHOP THIS LOOK
3. Modern Farmhouse Bedroom, Boston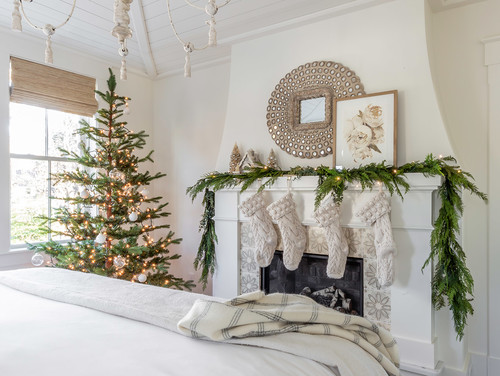 Photo by Cutting Edge Homes Inc. – Look for bedroom pictures
–> SHOP THIS LOOK
4. Transitional Living Room, San Diego
Photo by – More living room photos
–> SHOP THIS LOOK
5. Equestrian Christmas Farmhouse, CA
Photo by Kerrie Kelly Design Lab – More living room ideas
–> SHOP THIS LOOK
6. Transitional Powder Room, San Diego
Photo by – Search powder room design ideas
–> SHOP THIS LOOK
More Christmas Decor to doll up your home!
How I store my Christmas wall decor and ornaments
Instead of chucking my "toys" aside in a standard box, I decided to get myself a Christmas theme storage box instead! 
It keeps things organized into one location and it is so easy to recognize! 
Get yourself one too! 
LOVE this Article? Pin IT!