Amazing Cinder Block Fire Pits Ideas And Questions Answered
Cinder block fire pits are a great option for those looking to build their own outdoor fire pit. They are easy to find and they provide a sturdy, durable base for the pit.
Not only that, these simple fire pits can be built in any size you want and you could also add some additional features like benches or seating areas around the pit, which is perfect if you want to use your fire pit as an outdoor living space.
Cinder blocks are durable, weather-resistant, and cheap – making this a great project for the do-it-yourselfer.
In this post, I will share a list of amazing cinder block fire pits ideas, tips on how you can build one yourself, and answer some commonly asked questions about them.
Note: This post may contain affiliate links. Learn more on the disclosure page.
8 Cinder Block Fire Pit Ideas
1. Fire pit made with cinder blocks and patio pavers
This is a really simple and beautiful design from Wednesday Morning Whispers, where they have created a square fire pit on top of 25 patio pavers as the base.
All in all, only 25 patio pavers, 20 cinder blocks, and 10 bricks (optional) were required to complete this easy project.
Design your ideal patio, fire pit, pool deck, walkway/outdoor living area
Dry-cast concrete is long-lasting and maintenance-free
2. Basic DIY Cinder Block Fire Pit
Here is a simplified version without the base and top layer of bricks. All you need to do is clear a space in your backyard for the fire pit to burn, set up the cinder blocks, and voila! You got yourself a ready-to-use fire pit in not time! More info here.
3. Small cinder block fire pit with lava rocks
To make this beautiful fire pit, you don't need to spend a lot of money.
This DIY cinder block fire pit can be built in only a few hours for a total cost of roughly $40.
You'll need a total of 24 fire-resistant cinder blocks, a couple of bags of red lava rock, and a tiny bag of cement or concrete (optional; these are for joining the blocks but you can opt not to do so and be able to move them freely in future).
But of course, if you wanted it to be a permanent structure, you should follow all the steps here.
That's it, and you have yourself a fire pit that looks like it was done by a professional.
Get your red lava rocks here:
4. Cinder block fire pit with seats
This project might take a lot more time than the ones above, but as you can see, the results are amazing.
You will require materials such as a bunch of cinder blocks, fire bricks, sand, and more to get this up and running.
When you are done, you get a lovely circular fire pit with a seating area!
Learn how to do it here.
5. In ground fire pit made of cinder blocks
This particular project will require a lot of time and effort on your part, but boy does it look cool. Imagine fire coming out of the ground in the dark of night.
Throw in a few fire color changers and you have a real special light show going on!
Unfortunately, I do not have the steps to build this one out, but looking at the photo, I would imagine you need some cement that will hold the blocks together.
Other than that, most of your time is going to be spent digging!
6. Cinder block outdoor fireplace
On those nights when you and your family are out camping in the backyard and admiring the stars, a perfect addition will be this simple to make cinder block fireplace.
Throw in a metal fire grate so that the fire is concentrated in the middle, and this allows the cinder block structure to last much longer.
7. Cinder block outdoor grill set
Wanna have a super unique outdoors grill instead? Try making your own by stacking up a few layers of cinder blocks (fire bricks would be a more suitable long-term solution) and get cooking!
A wire grill mesh sheet is all you need to complete the setup and get your family in for a backyard feast in no time!
8. More cinder block fire pits plans
There are so many more DIY ideas that can be found and implemented, but from the examples above, you can see that the designs are normally either a circle or a square, or you can have the front portion exposed.
The designs here are also rather basic, which ties in nicely if you wanted to create one with minimal cost. In fact, if you get on Craigslist, you might even be able to find people giving away cinder or concrete blocks for free.
And by referring to the design plans here or using your own creativity, you might just create a superb cinder block fire pit that everyone will be jealous of!
Here are more ideas that you can replicate by using cinder blocks: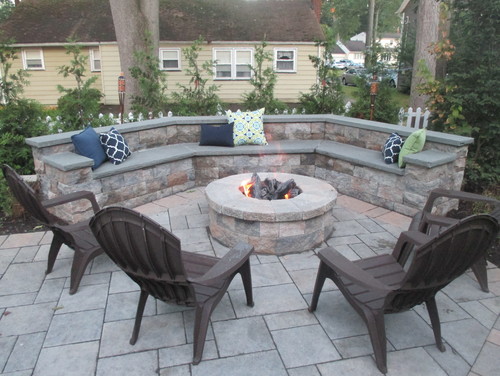 Photo by Jacobsen Landscape Design & Construction – More patio photos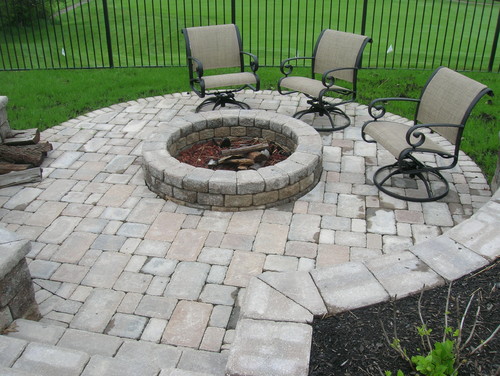 Photo by Eisler Landscapes – More patio ideas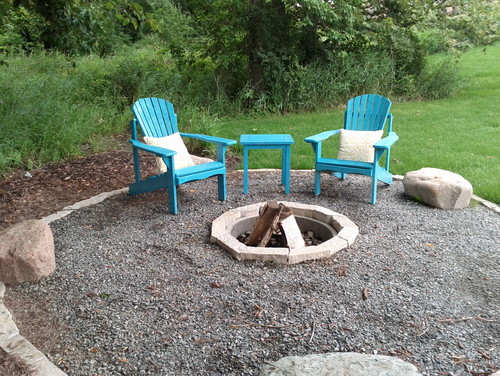 Photo by C. Johnson Landscape Design Group – Search patio design ideas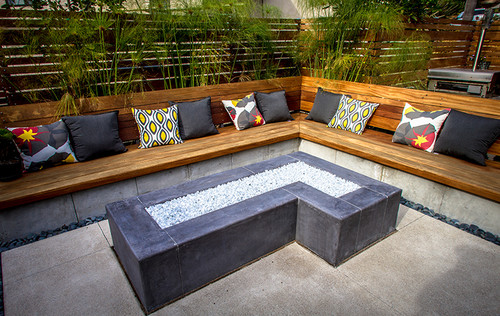 Photo by Eco Minded Solutions – Discover patio design ideas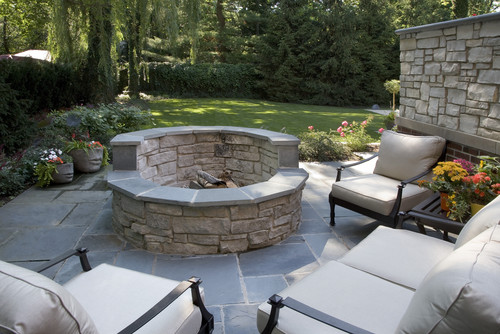 Photo by Schmechtig Landscapes – More patio photos
What is a cinder block?
Cinder blocks are hollow rectangle-shaped objects used in construction sites that are usually built of concrete and coal cinders.
They are similar to concrete blocks in shape and manufacture, but instead of sand or gravel, a large portion of the aggregate infill material is ash – specifically coal cinder.
Because of the ash content, cinder blocks are substantially lighter than traditional ones, and they lack the same tensile strength and pressure-bearing capacity.
As a result, cinder blocks are perfect for projects like building a garden wall, retaining wall, or fire pits, but they are not appropriate for larger construction projects.
Fire Resistant vs Fire Rated: What does it mean?
Most cinder blocks are fire-resistant, which means they will not burn in the fire, but they will break down after some time. These days, it is more common to find blocks that are fire-rated.
You can read more about them here.
Something you can do with cinder blocks that are not fire-rated is to pack to openings with sand or gravel. It improves their fire rating!
How do you make a fire pit out of cinder blocks?
Building your own cinder block fire pit is an easy DIY project that can be completed with an afternoon's work.
Here, you will find the basic materials and steps in order to make your own.
Step 1: Decide on a spot to place your fire pit
The first step before you decide where to place your fire pit is to actually check if it is legal to do so! If there are laws in your area that prevent you from doing this, then this project is probably a no-go.
If there aren't, then lucky for you!
While most people might choose the backyard as the ideal location, you can also consider having one in the front yard if you have one. It creates an inviting welcome for visitors when you have a party going on.
You will want to ensure that there is a large enough clearing away from potential hazards before you go ahead to build your fire pit. Safety is paramount after all.
Think about the shape and size you would like it to be and measure out the space for it.
Step 2: Decide if this is permanent or temporary
Cinder blocks are fire-resistant, which means that they won't burn, They are also able to withstand very high temperatures, making them a perfect material to use for fire pits.
However, after prolonged exposure to high heat, they will crumble and break down, so this will be the key consideration when deciding on a temporary or permanent structure.
With temporary fire pits, it is very much stacking them to form the shape and size you want and ensuring there are small gaps for air to flow.
When it comes to permanent ones, I would recommend that you mortar to piece the blocks together. Remember, you would have to allow time for it to cure.
Whichever method you choose, it is best to clear the area of grass and dig down about 3 to 6 inches and fill it with sand, gravel, or rocks. This will prevent any accidental fires.
Step 3: Further enhance your fire pit
This step is optional and it helps to make your fire pit look more attractive and also more useful.
What you can do is add on bricks of different colors, create a seating area, display fire pit signs, or simply surround the pit with stones and pebbles.
It is simple to do but will greatly beautify your new creation!
Pros and cons of cinder block fire pits
While it does seem that there are so many benefits to using cinder blocks to make your own fire pit, there can be some drawbacks too.
Check out the pros and cons here.
| Pros | Cons |
| --- | --- |
| Very cheap to procure; can even be free | Will crumble after prolonged use |
| Easy to stack up and build | Usually found in drab grey color only |
| Requires only very few other materials | Will need reinforcement if you want a permanent structure |
How much does it cost to build your own cinder block fire pit?
You might have cinder blocks lying around in your home that can be repurposed for your fire pit, or you could ask your friends if they have any unused ones.
Sometimes, you might even get lucky and get free ones from Craigslist.
However, if you are starting from scratch, you will be happy to know that it does not have to cost a small fortune either.
Assuming you want to build a pit with 20 blocks and a few caps, this will only set you back less than $30, and you can easily find them in your local big-box store. The bonus: It is highly likely you will be able to get concrete blocks that are fire-rated (but heavier) which can last for a very long time!
Frequently Asked Questions (FAQs)
Is cinder block safe for a fire pit?
If you are concerned about cinder block fire pits exploding, you should know that this is a rare occurrence. By checking with friends who have done it before and reading forums online, I have yet to come across anyone who encountered anything major. There are cases where people reported hearing popping sounds, but that is likely due to the heat expanding the blocks or something in the fire. You should also not use compressed blocks where the heat has no place to escape, causing a build-up of pressure within them.
Can cinder blocks withstand heat?
Cinder bricks are non-flammable and heat-resistant objects. The fire's heat will be absorbed by cinder blocks, shielding you from the sparks. Despite their heat resistance, some cinder blocks are not fire-rated and extended and continuous fire exposure will cause them to disintegrate.
What's the difference between a cinder block and a concrete block?
The main difference between a cinder block and a concrete block lies in the materials that are used to manufacture them. A cinder block also weighs lesser than a concrete block and they are not used in construction projects, but rather in smaller-scale ones like in the garden or backyard.
How many cinder blocks do I need to make a fire pit?
This really depends on your requirements. A very small pit for one requires just 4 blocks, while larger groups will likely require upwards of 30 blocks. It also depends on how high you want the pit to be. You can easily determine the number of blocks you need by coming up with the overall dimensions first.
What do you put in the bottom of a fire pit?
For your fire pit, start with a layer of sand at the bottom and then add gravel, lava rocks, fire pit glass, paving stones, or even bricks on top of the sand. Dirt can also be used as an alternative.
Can you paint a cinder block fire pit?
Yes, you can paint cinder blocks that are used for your fire pit. To do so, you will need to prep it by cleaning and priming it before you start painting. Details steps are found here.
How to secure cinder blocks together?
There are 2 main ways you can secure cinder blocks together, either by using mortar which takes more time and effort or using masonry adhesive which is faster to apply and dry.