18 Brilliant Gallery Wall Ideas You Can Use Right Away
Having a gallery wall is super cool, but frequently we are stuck, because we have no idea what to do, nor know where to buy those beautiful wall decor we so often see in glossy magazines. (oh wait, are they a thing of the past?)
Well, you're in luck today as this wall decor fanatic will be sharing some of the best gallery wall ideas with you. What I would highly recommend is that you create a photo frame gallery and then replace some of the spots with one or more of the items in the list.
The key thing is to keep the theme congruent and space them apart.
Here's an example.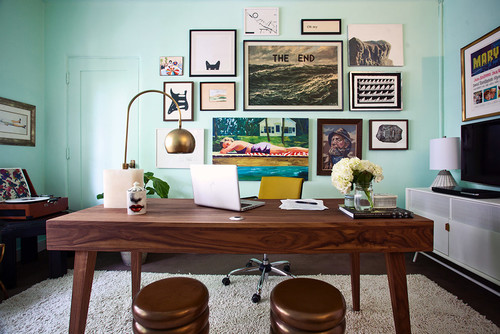 Be sure to save a copy of these photos for future use, and the bottom line is this: you need to take action to get it done!
Let's check out these cool ideas to get you started.
[block id="7091″]
---
Best ways to fill the empty spots on your wall
1. Mini Wreaths
Well, wreaths are not only popular during Christmas. They can be an excellent way to add some spice to your gallery wall, becoming the standout in an unassuming manner. 
There are lots of styles to choose from, like shabby chic, boho, and more. 
But my favorite is this. It is not necessarily a Christmas design which makes it evergreen and perfect throughout the year.
2. Frameless Posters
Who says you need to have the entire frame to capture a poster or picture? This kind of "unframed" style is light on the eyes and doesn't take up too much unnecessary space, as opposed to traditional wall frames that tend to be thicker and larger.
3. Macrame wall tapestry
This wall decor is an excellent way to add some softness to the walls, and a touch of bohemian style too. Choose to have a dreamcatcher-like design, and hang it near the window to have a good dream at night.
Check out this one from our store:
[product id="34889″]
4. Candle Sconces
Having ambient light in a room creates a cozy and comfortable atmosphere, but using candles can really add a different degree to it. They are classic and romantic, and this style never wears off. 
These are my favorite designs. 
[products ids="34892,34896,34894″]
5. Metal Flowers Wall Decor
Fancy having some flowers around the house? Well, you don't need to rely solely on fresh flowers. Try out these metal florals on your walls. They act as a perfect complement to a gallery wall photo set.
In my mind, it is a perfect fit for traditional and modern homes alike.
Here's one I really adore:
6. Floating Shelves
Do you have a bunch of cute home decor that you wish to display more prominently on your walls?
Cue the music.
You need to make use of floating shelves! 
They are an excellent way to create space for small objects in unexpected areas of your home, like the entryway, bathroom, or a small reading corner. 
I would highly recommend using those with wood tones if you want to add some warmth to your home. 
[products ids="34899,34901″]
7. Wall Clocks
I don't know why I took so long to mention this, but wall clocks should easily feature well on a gallery wall. 
Besides the fact that it tells the time, there are so many different designs out there that can suit most home interior styles. 
For me, I prefer farmhouse and vintage-style looks. What about you?
Here are a couple of farmhouse clocks you can get in our store. (you can find lots more styles in there too)
[products ids="20258,19691″]
8. Themed wall accents
There are a million and one things to hang on a wall, and that's the problem.
It's too many, but I prefer to think of it as a good problem to have 🙂 
What I usually like to do is to pick out a wall accent that best suits the personality of the room's owner.
For example, your son could be an aspiring canoeist, or he could be a quirky funny guy. I would choose to install an oar or paddle in his room. That's really personalized and sure to bring a smile to his face.
Something that's always changing in my kitchen signs. A simple sign can transform the feel your kitchen gives out and certainly can add warmth to a dining room too.
[products ids="29969,34906,34927″]
9. Wall-mounted planters and succulents
Who doesn't like a bit of green in their homes? They are nice to look at and adds life to an otherwise stale wall. 
The best part is, you don't even need to get living ones if you do not wish to care for them daily. There are lots of faux ones that look almost exactly like the real thing. 
10. Abstract animals wall accents
Typically, we fill our homes with common items such as wall art, frames, and such.
These are great and can be customized, but be achieve a more prominent, or should I say 3D effect, an animal wall hanging will be a great choice. 
Lots of different designs are easily available, and they make a great impact on the living space. 
Check out one of my favorites here:
[product id="34910″]
11. Framed insects
Ok, hear me out first. I know most people don't fancy insects much, but they do make fascinating art pieces. I especially love those that are of a vintage style, and can easily become a talking point with friends and family alike. 
For sure, the kids will love it and learn many lessons from studying them too.
[product id="34934″]
12. Customized City Map Wall Art
This was at the top of my to-do list and I was pretty shocked that I haven't gotten one in all these years of dolling up my house. 
Any travel lover is gonna need one of these at home. 
Finally, I have decided to turn this into a personal project, and thus Wallccessories Exclusives was born. 
It will carry specially curated products that I have a hand in, and to kick start this new section, you can now get yourself a customized city map wall art! 
With this new product, you can choose whichever city in the world and turn it into a personalized gift (for yourself or friends!). 
It captures our favorite memories, which is why I think this is the best product to launch Wallccessories Exclusives. 
Watch out for more! 
[product id="30868″]
13. Quotes Wall Art
Why not hang something really meaningful or perhaps motivational on your wall? 
It serves as a good reminder of what matters to you most, and perks your day up!
You do not have to overthink or complicate matters, as the simplest ones are often the best too!
[products ids="34959,34953,34939″]
14. Wall Mirrors
Wall Mirrors are not only useful for being a vanity object, but also a great way to add decorative touches to a room. 
They brighten up and expand how large a room looks, which is why I always hang one in smaller rooms.
You can also learn more about how to pick the right wall mirror here.
Here are some of my favorite decorative pieces.
[products ids="12370,18677,17414″]
15. Chain photo frames
What's the quickest way to add some pizzazz to your traditional photo frames? Get one that's hanging from a chain!
The chains add a new element to your pictures and a great way to make your gallery wall stand out.
[products ids="34975,34968″]
16. Flowery or festive garlands
I suppose most of us bring out the garlands mainly for Christmas, but that would be a big mistake in my books. 
In a way similar to succulents and wall plants, garlands have the effect of bringing nature into your home. 
Choose those with flowers and decorate them further with your own trinkets!
17. Wall Decals and Stickers
In my opinion, these are usually best for kids' rooms. But they do make a nice addition to living spaces such as study corners, kitchens, and such. 
The best part is you can choose from so many different kinds of designs and easily change them out for a new season or whenever you feel like it. 
I personally like these.
[products ids="31285,31431,31463″]
18. Wicker baskets
I guess this might come off a bit unexpected, but wicker baskets are not only good for holding fruits and bread. They look lovely when hung up on the walls!
Don't believe me? 
Check them out yourself!
Which was your favorite gallery wall idea?
Now that you have these 18 secret weapons, which are you going to put up first?
Whichever wall decor you choose, be sure to have fun decorating your home!
Be sure to download your free printable wall art too!
Love it? Pin it to Pinterest!
[row] [col span="4″ span__sm="12″] [ux_image id="6316″] [/col] [col span="4″ span__sm="12″] [ux_image id="6320″] [/col] [col span="4″ span__sm="12″] [/col] [/row]