Are you up to speed decking out your home for a spooky Halloween? Before that time of the year comes around, you need to start preparing to decorate and add a few pieces to your home for the festival! 
What should you get then? Where to find inspiration? Don't fret as I am here to help you create the best Halloween wall decoration in your neighborhood! Don't forget to warn the kids to bring their guts when they come for treat or trick! 
The only way this site can exist is through support from our readers. How? By reading and sharing our articles as well as shopping! Yes! There are affiliate links to sites like Amazon, which gives us a small commission when you buy something. The great thing is that there is absolutely no cost or increased price to you, so happy shopping! More details here.
Do you know why people celebrate Halloween?
Each year on 31 October, people dress up in silly costumes, hit the streets, and attend parties with friends. 
However, where did this tradition come from? 
There are no exact records of the origin, but we do know that Halloween takes place on the eve of the Western Christian feast of All Hallow's Day. 
It could likely have its roots in Celtic or Pagan festivals, and during this time, donning of scary costumes, carving up jack-o-lanterns and tellings ghost stories are the usual practices. 
Some even visit "haunted" attractions in order to give themselves a good fright! 
What kind of Halloween decoration is there?
The good old jack-o-lantern typically takes center stage, but there are so many more Halloween decor that you can use. 
As you know, I am crazy about wall decor, so Halloween wall decor is my domain. 
There are so many things you can put up, such as vampire bats, witches, spooky paintings, mummies, and skull candles. 
And that's just the tip of the iceberg. As I always say, you are only limited by your own creativity and bravery! 
How do you hang Halloween decorations without damaging walls?
The thing is, Halloween happens only once a year, so you obviously will not keep them up for long. In this case, what is the best way to hang them up without causing any damage to your walls?
Well, firstly, you can make use of existing hooks. Some of your current wall decors will have to be taken down, so that's that perfect spot to put up some of your Halloween wall art or what have you. 
The other thing I like to use is removable hooks, velcro, or tape. You can easily get them at Wayfair or Amazon or hardware shops, and after using them, you can take them off without leaving a mark or scratch. 
Compare that to using sticky tape and pins, this is way better.
What kind of DIY Halloween Wall Decor can I make?
I am not exactly a master at craftwork, but simple designs can be made right in the comfort of your home quickly. 
Two of the most common animals seen during Halloween is the spider and the bat. 
While I can't make a spider, I do know where to get them. 
You can stick them onto your walls to create that creepy-crawly feeling to scare your guests! 
As for bats, head here and print out a few different designs. 
You can stick them to pretty much anything and remove them easily later with the removable tape. 
For more ideas, go here.
Better yet, stick them on the wall mirrors around the house and give visitors a good scare!
Show me some Halloween Wall Decor inspiration!
Let's see what other people are doing with their homes to get some ideas for yours! 
1. Halloween Design Dining Room, New York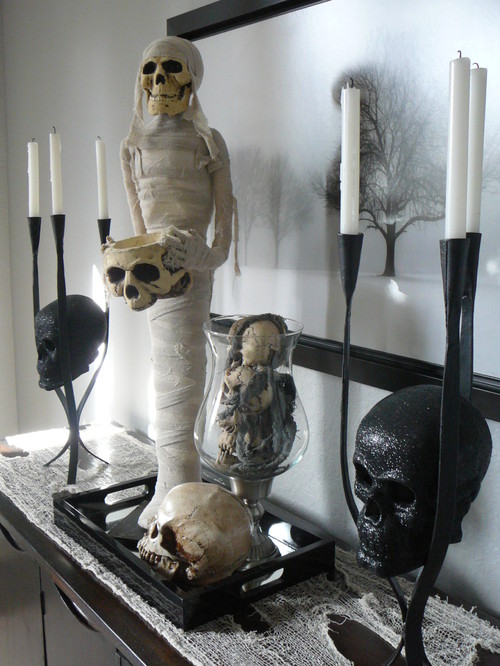 Photo by FOCAL POINT STYLING – Look for dining room design inspiration
–> SHOP THIS LOOK
2. Halloween Pumpkin Fireplace
Photo by Darren Gygi Home Collection – More family room ideas
–> SHOP THIS LOOK
3. Halloween Window Silhouettes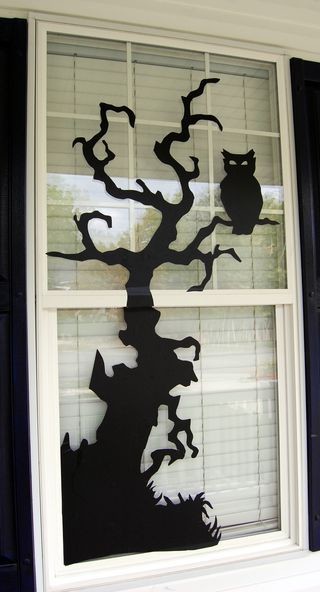 Photo by Window2Decor.com – More home design photos
–> SHOP THIS LOOK
Haunted house, bats, and owl sitting on tree. A good mix of Halloween decals to spice up your windows!
Silhouette Branch and Crows Vinyl Decals. Yet another cool sticker to add to the spooky mood for your home.
3D Bats Stickers. Stick these all over your house to add a realistic feel and watch them scare the kids!
4. DIY Skeleton Wreath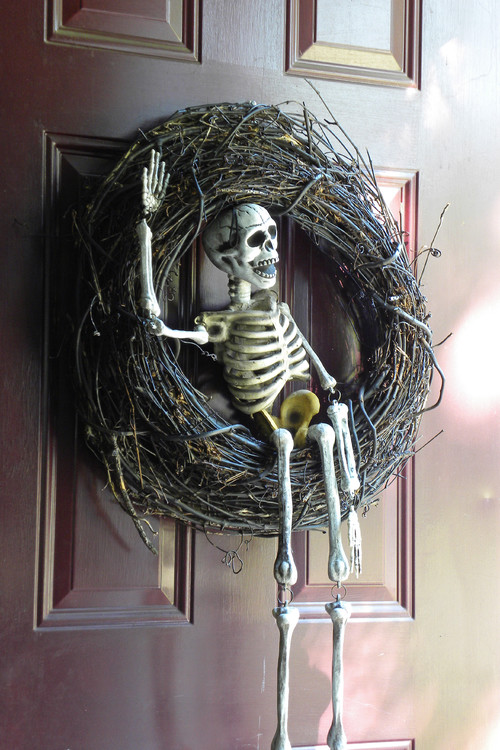 Photo by Sarah Greenman – Search home design pictures
–> SHOP THIS LOOK
More Spooky Halloween Wall Decor!
LOVE this Article? Pin IT!