How to pick the right wall mirror that will blend in seamlessly
To me, wall mirrors are absolute essentials for any household. They perform the very important task of making sure we don't have food stuck between our teeth. And beyond that, they help us to look great, make the house look great and become more spacious, bring lots of sunlight into the house, and add a stylish touch to any corner.
Choosing the right shape is important, as is the size of a mirror. You don't want it to look out of place, nor have it so tiny that it cannot exhibit its best qualities.
So how do you make sure that you are choosing the right wall mirror for your home?
The 3 key things are size, shape, and style.
Stick around and find out more!
[block id="7091″]
---
How to choose the right size wall mirror?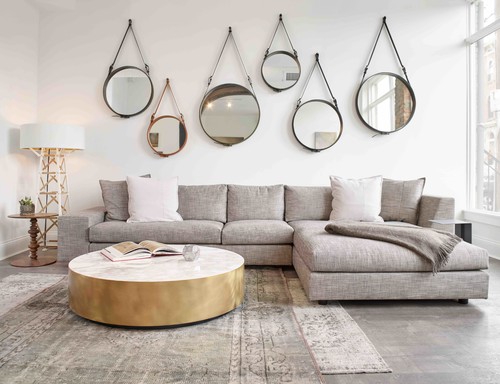 Just as choosing other pieces of wall decor or furniture, the right size plays an important part in the overall look and feel of your home.
Imagine you have a small-ish apartment and you place a huge sofa set right in the middle. Doesn't seem to fit right?
While that is obvious, wall mirrors are slightly more delicate. How to pick the right size wall mirror?
Firstly, you got to determine where you wish to hang your mirror. With that in mind, the next thing to consider is why you are placing it at that spot. Is this going to become a gallery wall? A focal point to expand on? Or simply to line the hallway? Be certain about the impact you want the mirror to make on a particular wall.
With that in mind, here are a few tips on selecting the right size mirror:
On a large wall, a small mirror will look pretty insignificant. I would advise that you avoid doing that. However, if you make use of a cluster of small hanging mirrors, for example, 2 round mirrors and a square mirror, you can actually create a design that stands out
If you are using the wall mirror as a focal point, for example, a large wall mirror, you can enhance it further by finding one that has a unique frame. There are lots of unique ones (which you can discover in our shop) such as Art Deco mirrors, brass frames, and rattan wall mirrors
Let's say that you have a feature wall that displays your favorite wall art or any other wall accents, you can consider placing a large mirror opposite it to further enhance and bring out the feature. In this case, go with a low-key frame or even a frameless wall mirror so it doesn't attract too much attention to itself
For you guys who are a bit more precise, try using a mirror that is two-thirds the size of the furniture it is hanging above
Choosing the right shape wall mirrors
Understanding the mood that a particular shape brings out can help you to improve your interior design and acting as a complementary piece or one that takes the spotlight.
Here are the most commonly used shapes and what they typically represent:
Square and rectangle – These geometric shapes represent values related to stability, trust, and security. They work extremely well and are often found in traditional style homes
Triangles – This shape is usually associated with leadership qualities, and a triangle-shaped wall mirror can certainly bring that sense of power into your home
Circles – They represent completeness, harmony, and wholeness. Using them in your home can soften the edges and bring about a whimsical look and feel
Odd shapes such as hexagons – Similar to squares and rectangles, these can bring about a sense of serenity and structure. However, as they are not as common, they are great for bringing attention and impact to a room
Something I like to experiment with is using a few different shapes to create an entirely different effect. Here's one that I really like: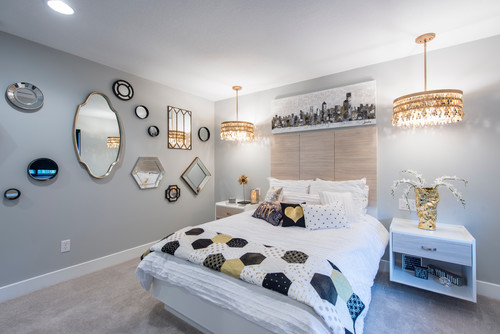 Matching to the right style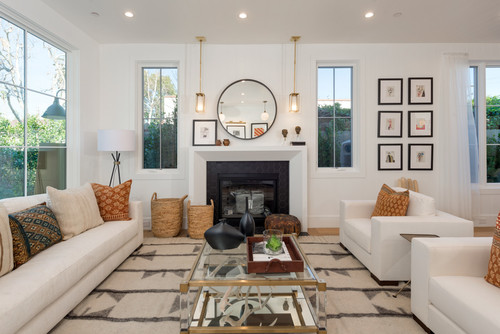 As you probably figured by now, it is pretty important for the parts of a home to blend in with each other. At least for most of the items.
It can cause chaos to the eyes if you try to pack your home with everything that you fancy, like a Chinese lamp in a rustic farmhouse with an Art Deco dining table. That's just not pretty.
That being said, you can always incorporate something that is unusual (just one please) to create an impact or a focal point.
Whichever the situation you find yourself in, paying attention to the frame design is crucial. Glass is glass, so frames can make or break your interior decor right away.
I have tried out a few ways to mix in wall mirrors with my design style. Here they are:
Wood frame mirrors go especially well in Scandinavian design homes, but be sure to choose lighter colored wood. In traditional homes, switch to darker woods such as stained oak or mahogany
Modern homes can play around with a lot more designs, for example using a mosaic mirror or a sunburst design
For an industrial look, I would go for mirrors with metal frames, for example, pewter or gold.
Mirror types for different rooms or areas in your home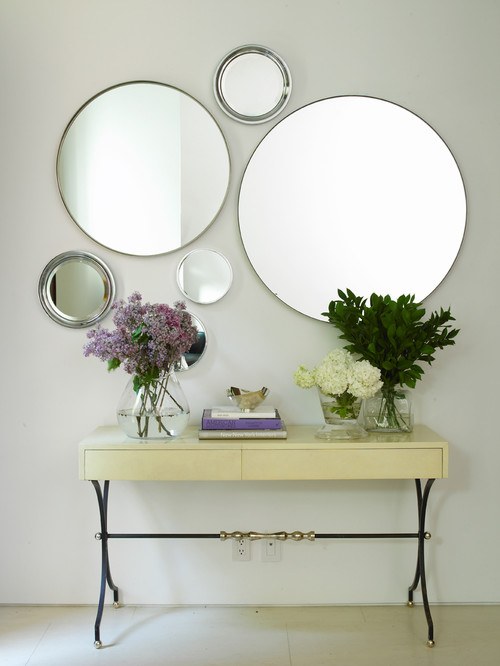 Now that you know how to choose the right wall mirror, I have a few more suggestions on what to use for each area of your home.
Bathroom – something functional always plays well. If you face a space crunch, go with mirrors with shelves. They add extra storage room without compromising anything else. A wall mirror with lights will do well here too. Check out these unique mirrors for your bathroom if you prefer to go for style over practicality. Common sizes you will find are 32 and 36 inches in height.
Living room – this is usually the area where you put in the most effort, and decorative wall mirrors will work the best. If your home has a fireplace, I would recommend using a large rectangular wall mirror to amplify the room. Otherwise, the same mirror will work well above a sofa set too. For a fireplace mirror, I recommend getting one that can align with its natural vertical lines. The red lines in the image represent the sizes that are most suitable:
Bedroom – since the working space is usually lesser here, and this is the usual place for most of us to dress up, I would recommend using a full-length mirror here. You have a few options to choose from: mounted on the wall, a leaning wall mirror, or a cheval mirror. Common height sizes you will find for full-length mirrors are 36, 40, and 48 inches. Leaning mirrors are usually 64 and 70 inches.
Hallway – this area is often overlooked, and sometimes it does not get enough lighting too. A wall mirror makes a lot of sense so that it can make the hallway look bigger than it is as well as bring in some lighting effect. You can jazz it up by using stickers for the mirrors or go with alternating shapes. One piece of advice I got from Feng Shui is that you should not place a mirror right at the end of the hallway.
Entryway – I love to place large, ornate mirrors here. They are a great way to welcome us home or our guests, and they are perfect for last-minute touch-ups before heading out! The most suitable size is to choose one that is two thirds the width of the console it is hanging above.
How to pick the right wall mirror? Ideas for your home!
[block id="sign-up-for-amazon-prime"]
Hopefully, this post has given you some guidance and direction on how to pick the right wall mirror.
Here are some of the mirrors that I have personally owned or are on my shortlist. I hope they provide you with some inspiration and happy shopping! (consider checking out my posts on my favorite Pier 1 mirrors and Anthropologie mirrors too!)
[products ids="12370,12484,7668,7263,9228,8662,9210,9199,9376,10194″]
Love this article? Pin it to Pinterest!