20 Mirrored Wall Ideas You Can Work With
Back in the 70s, there was a design trend that took the market by storm and found its way into many modern homes.
That was the mirrored wall. It was perfect for decorating large walls.
The trend went on for about 20 years all the way into the 90s before people got tired of it and began exploring new styles.
As you can imagine, the market was very soon full of people who were in search of some kind of mirrored wall ideas, either the modernize it or to completely remove them.
But there were also some who simply kept them, and their mirrored walls live on today.
Lucky them, as this bold, reflective style is seeing a revival.
In this post, we shall look at both sides of the story: Mirrored wall ideas for someone who has never had one, and tips on how to work with an existing mirrored wall and make it modern.
[block id="7091″]
[block id="sign-up-for-amazon-prime"]
---
What are mirrored walls?
I think I can speak for most to say that we are accustomed to seeing wall mirrors that are single piece, not more than a couple of feet wide, save for full-length mirrors (usually not more than 4 feet tall), and hung on their own.
There are obviously some exceptions such as a gallery wall or in a gym, but that is less commonplace.
Mirrored walls are the complete opposite.
Instead of taking up a small spot, these giants usually take up the entire space of an empty wall, or at least most of it, creating a strong, large reflection of the entire room.
This was a bold design idea that had lots of admirers, and having one in your home back then was considered super cool.
Design ideas for mirrored walls
For those who own a smaller space, making use of mirrors is a smart way to make it look larger and more spacious. For a more dramatic and direct impact, a mirrored wall can do wonders to a small living space and open up a room without needing to spend a fortune.
At the same time, the large mirrors bring in a flood of light, illuminating an otherwise dull space instantly.
But how do you create a mirrored wall without overdoing it? You certainly don't want your place to turn into a mirror maze, so stick around to get some inspiration!
1. Understated look in a contemporary in-law suite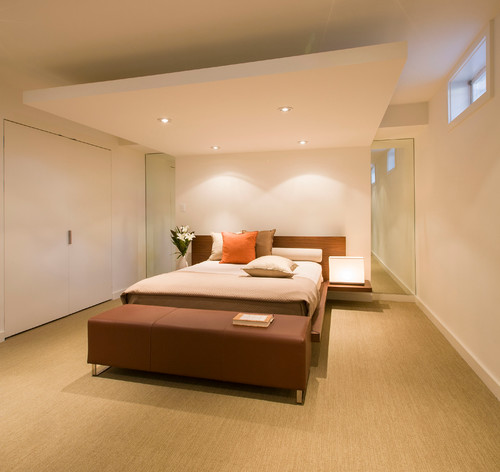 The use of full-length mirrors here is understated but adds to the overall effect of making this small bedroom look bigger. The wardrobe doors are frameless, and you pretty much cannot see the hinges, enhancing the minimalist look.
---
2.Classic Powder Room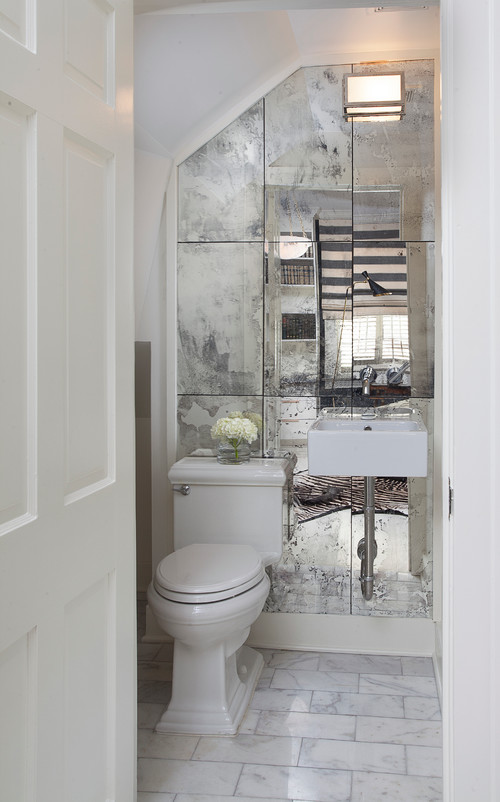 This small powder room has a floor to ceiling backsplash mirror installed that turned it from small and cramped to classy and full of character, especially with the use of slightly stained mirror tiles.
---
3. Stunning entryway
This is such a beautiful pleated mirror entryway. Creates a dramatic effect and is an immediate showstopper.
---
4. Wrapped up kitchen 
I really have no words for this amazing piece of design by Fabian Freytag. Just stunning.
The geometric tiled mirrors add a different texture to an eye-catching "framed" kitchen. All around the counter as well as the top part of the kitchen is lined with large reflective mirrors. Definitely for the bold.
---
5. Wardrobe floor to ceiling mirrors
Behind this simple set of mirrors lies a huge amount of storage. Without sacrificing any area, this room has a gorgeous view of the outside and is perfect for dressing up in natural light.
---
6. Elegant dining room
The dining room is one of my favorite spaces to gather with my family and enjoy a nice conversation over a meal.
A great way to incorporate a mirrored wall here is to install mirrored tiles on the wall directly facing the dining table. This wall of mirrors reflects the beautiful pendant light here and creates a strong focal point. Plus, if you are a believer in Feng Shui, this arrangement is supposed to help you preserve wealth!
---
How to cover mirrored walls? 14 ways to hide them away
On the other hand, if you inherited a relic from the previous owner, what can you do about it?
The main problem comes about when it is overdone. I have heard of homeowners who in the past mirrored pretty much the entire house! That is just crazy and ugly if you ask me.
If you bought or rented a house with such features, there are a few tricks that you can put into good use right away though. The best part is that you can do all of these steps yourself with not much effort!
Hang curtains
Not only are curtains useful for blocking out light, insulating your home, or blocking out unwanted noise, you can also use them to cover up a mirrored wall.
They are relatively cheap and can be repurposed in the future for other purposes such as dividing up a room or hide ugly stuff behind it (think storage closet).
After installation, you can even add a track of lighting above to create a nice effect. I think a semi-closed curtain with a mirrored wall backdrop would be pretty cool.
I found this really nice curtain with a silver tree design that could work really well indoors:
DIY panels with fabric
Head to your local home improvement store or just purchase a few pieces of plywood together with your favorite fabric. Stick them on and hang them on your mirrored wall. Immediate wall art upgrade!
Acoustic panels
Similar to DIYing your own panels, acoustic panels are useful for improving the sound quality in a room.
Some of them come in nice designs that can instantly add a new look to a mirrored wall.
Paint over it
This is a great opportunity for you or a family member to display their creative side. The mirrored wall straight away becomes a large canvas to showcase a unique art piece only found in your home.
If you do go for it, be sure to use acrylic or enamel craft paint and clean the surface before starting work!
Here's one that is suitable:
Use mirror stickers or decals to decorate 
This is one of the fastest and best ways to cover up a mirrored wall. You can easily purchase mirror stickers and simply stick them on.
It might be a bit limiting to some as you may not find a design you like, but nothing beats it for speed!
If you happen to have your own design, you can get it printed on-demand here so you get the best of both worlds!
Create a striped accent wall 
This takes a bit of work but totally worth it if you can pull it off! So gorgeous!
Get yourself some MDF boards and stick on a layer of grasscloth wallpaper to create a textured look right away. Beauty!
Hang wall art from the ceiling 
Been thinking of the right place to hang that marvelous piece of wall art you adore?
Well, this is the best chance for you to do it.
Check out our wall art collection here!
Cover with wallpaper
Another quick way to cover up a mirrored wall would be to use wallpaper.
It's a simple solution, and what you can do is to cover only parts of it so that a small window is still in view.
Use a room divider or privacy screen 
These are basically folding screens that can be moved about to create a sort of "wall" to block out your mirrored wall.
And I'm not talking about those hideous-looking ones that you can usually see in an office setting.
Check out this gorgeous woven screen that will be perfect for hiding away a mirrored wall.
I would still get it for my dressing area even if I don't have something to cover!
Install a frame around the mirror
Most mirrored walls are frameless since they need to be pieced together to form a larger one.
Take advantage of this situation by creating your own frame around a mirrored wall.
A few pieces of treated wood will do the trick nicely, but for something simpler, get yourself some mirror frame molding!
I love this one below. It creates a luxurious Art Deco feel.
Create designs over the mirrored wall
While creating a frame is a great way to enhance your mirror, you can take it a notch further by creating designs on it.
Making use of molds or thin pieces of wood, you can create things like an arch window, multi-panel (as above), diamonds, or a criss-cross pattern.
Just let your creativity take over.
Recycle your favorite postcards and photos
Time to bring out all those lovely postcards and photos that you have kept in storage!
A mirrored wall is the perfect place to stick them on and reminisce about all those memories.
The more the merrier, as that brings about a homely feeling. I would even take it a step further by including some craftwork such as a dreamcatcher!
Make use of large or tall furniture
Make use of this furniture to cover up your mirrored wall.
A tall display cabinet would be a great choice, as is pairing them with privacy screens.
I know I will be getting this beautiful bar cabinet if I free up some space in my home.
Do nothing
Hey, you don't necessarily have to change things up. Why not embrace a legacy?
---
In summary
Whether you choose to keep or modify a mirrored wall or set up one in your home, there are choices galore.
How will you go about decorating walls with mirrors? I hope the simple tips in this post can help you out.
Be sure to check out this post on the 14 mistakes to avoid when decorating with mirrors too!
Happy styling!