The Best Rustic Wall Decor Collection and Ideas!
Who doesn't love a rustic style home? Or better yet, rustic wall decor! 
But what exactly does rustic mean? 
These days, the word gets tossed around from just about everyone. 
People who are selling farmhouse furniture, from Tuscany or even coastal folks talk about rustic like it covers every single theme out there, but it's not. 
I suspect that due to its popularity, everyone wants to be associated with it and wants a piece of it! 
Hopefully, I can give you a bit of insight as well as ideas by the end of this article.
The only way this site can exist is through support from our readers. How? By reading and sharing our articles as well as shopping! Yes! There are affiliate links to sites like Amazon, which gives us a small commission when you buy something. The great thing is that there is absolutely no cost or increased price to you, so happy shopping! More details here.
So, what is rustic style and how can I tell one apart?
The word rustic actually has 2 meanings: the first meaning is plain and simple, while the second meaning relates to the countryside, kind of like farms and cabins. In design, the two meanings are used to describe a style that translates into cozy, inviting, and comfort. 
Some of the trademark features that a rustic home displays are the use of dark wood, stone beams, leather furniture and perhaps one or two hand me down antiques. They often resemble a cabin in the woods, where it has interacted with the great outdoors and thus gaining a weathered look. 
Most of the time, the materials used are raw and original or lightly treated, for example, the use of recycled or reclaimed wood. I especially like the chest coffee tables that are often found in such designs, as well as the trolley style coffee tables with large brass wheels. 
When it comes to fabrics, wool, cotton, burlap, canvas and linen are widely used. It is very common to have nature elements included, such as indoor plants or flowers. 
As for walls, they have a special place in a rustic home as they are typically made of wood panellings or even constructed from stone! Add to the rustic wall photo frames, and that's one way to add real character to a home. 
One thing for sure is that you will not find any glossy finish or sleek modern designs here! 
Photo by Cameo Homes Inc. – Browse living room ideas
How do you decorate a rustic wall?
With the information above in mind, I have a few tips to share with you and how you can create rustic wall decor. 
As you can tell, there is going to be some overlap with other styles such as farmhouse or country style. 
It is also common to have large signs with quotes about family life and such, and something I totally love is the use of large wall clocks! They add so much character to the home! 
You can install a large wide mirror in the main living space. This has the added effect of making the house look larger than it is. 
Check out more Rustic Wall Mirrors here!
To add more flair to it, you can line the mirror frame with a burlap or attach a small wreath above or below it. 
I did not do this before, but I would certainly add a pair of sconces beside the mirror. 
Placing this arrangement above a large leather sofa would be really nice. 
Create a wall gallery by placing a large wooden clock right in the center. Surround it with frames of farm art or photos of your family for an amazing gallery to show off your cute pics.
Near the entrance of your house, you can put up pieces of reclaimed wood from which picture frames hang from. 
Check if there are lumberyards near you or get it delivered to you by ordering on Amazon. 
Another idea that I really like is to turn a corner of the room into a photo gallery. 
Install a wood shelf along both walls and start adding your favorite photos into wooden frames. Check out this lovely wooden oar wall decor too!
Having two walls perpendicular to each other adds a different layer and feel to the display, and makes it more lively. 
Show me more Rustic Wall Decoration Ideas!
While you are shopping…
We endeavor to show you items in the rooms we showcase, but sometimes they just aren't available, that's why you will see the closest match. Also, we love home decor too, so we will recommend items we adore as well 🙂
1. Rustic Home Office Decor, Chicago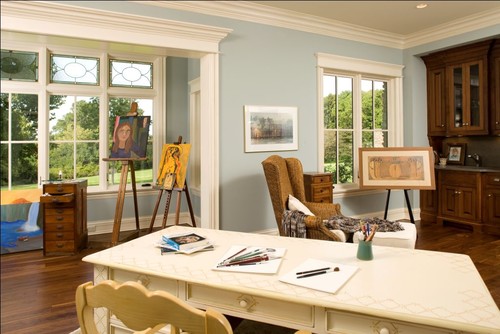 Photo by Avondale Custom Homes – Search home office pictures
–> SHOP THIS LOOK
2. Rustic Colorado Mountain Ranch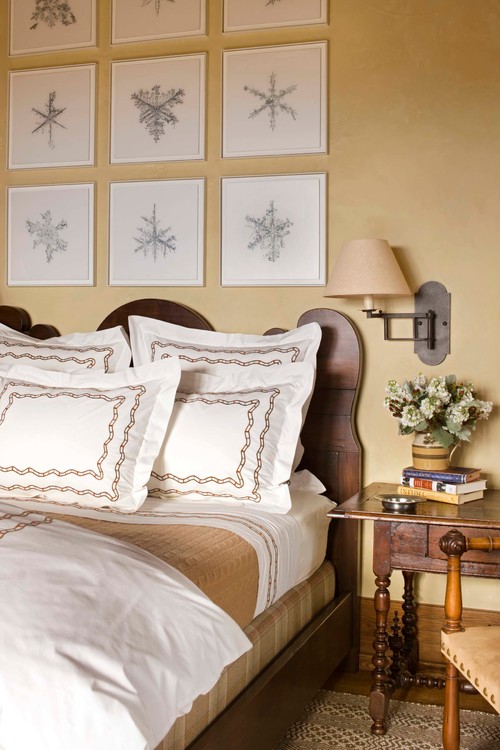 Photo by Cullman and Kravis – More bedroom ideas
–> SHOP THIS LOOK
3. Hallway in Colorado Mountain Ranch
Photo by Cullman and Kravis – Discover hallway design inspiration
–> SHOP THIS LOOK
4. Rustic Dining Room in Atlanta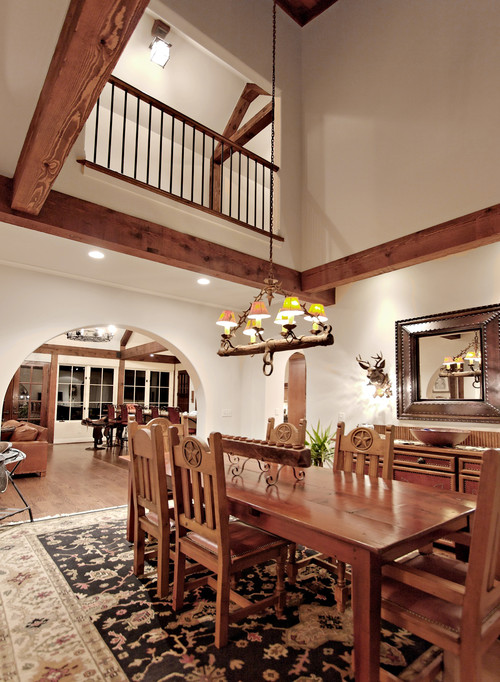 Photo by Dresser Homes – Browse dining room photos
–> SHOP THIS LOOK
5. Living room in Lake Travis home
Photo by Design Visions of Austin – Look for living room pictures
–> SHOP THIS LOOK
6. Rustic Stone Fireplace, San Diego
Photo by Eldorado Stone – Browse living room photos
–> SHOP THIS LOOK
More Rustic Wall Decor Ideas!
– Rustic Wall Clocks
Rustic Wall Lamps, Sconces and Lighting
– Rustic Wall Art
– Rustic Wall Mirrors
– Rustic Wall Photo Frames
– Rustic Wall Hooks
– Rustic Wall Shelves
LOVE this Article? Pin IT!