Fair Trade Himalayan Salt Lamp – So Well Made Review
Poor quality salt lamps are a dime a dozen and the problem is, you can't tell the difference between the good ones and the bad ones! The worse thing is you end up paying for something that is unethically produced and what's worse is that it's bad for your health.
In this post, I want to talk a bit more about So Well Fair Trade Himalayan Salt Lamps and why they are superior to the competition.
Learn about the company, the benefits of Himalayan salt lamps, as well as find suitable lamps for your home.
Let's dig in.
[block id="7091″]
---
So Well Himalayan Salt Lamp company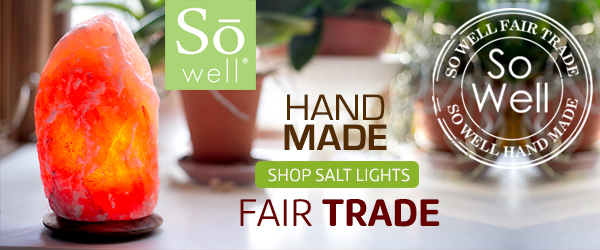 The company we are focusing on today is So Well, which has been producing high-quality, sustainable, and fair trade Himalayan salt lamps since 2004. The company is founded by Isabella Samovsky, and they work closely with artisans in their Himalayan base to create handmade products derived from the salt in the area.
So Well works with and provides job opportunities for artisans and their families in the Pakistan and Himalayan region. In line with their principles, So Well pays 25% above the average wage to them and observes human rights practices closely by ensuring sufficient rest, protective clothing, and medical care if afforded to these workers.
Their products are defined by the following qualities:
Organic
Handmade
Cruelty-Free
Vegan
Sustainable
Highest Quality
These are the same reasons I believe and trust in their products, which are excellent for your own use or as a gift.
What are Himalayan salt lamps?
First, Himalayan salt is harvested from pollution-free sea beds. They are then sculpted by craftsmen into beautiful lamps that are useful in generating negative ions into the environment. Negative ions are thought to be nature's way of purifying the air, which is why you can feel that the air is much "cleaner" after a storm.
Although there isn't a whole lot of scientific evidence as yet, many of its supporters swear by its benefits.
They are also great for acting as a piece of home decor due to their natural and unique shapes. Plus, they come in a few different colors (all-natural) that add to their beauty.
The thing that stands out with So Well is their attitude towards sustainability and fair trade. They are members of PETA (People for the Ethical Treatment of Animals) and a Chicago Fair Trade Member among several other similar organizations.
This means that the value chain that they created is free from labor abuses, get paid a fair market wage, and are committed to using sustainable methods and practices to produce their craft.
What are the benefits of Himalayan salt lamps?
As the lamps from So Well are made from pure Himalayan salt, they exhibit the highest qualities associated with this unique pink salt. They have the ability to purify and cleanse the air around you.
These days, we live in such a polluted world, and having a salt lamp right in our homes is one of the easiest and most convenient ways to enjoy cleaner air. Due to the high amounts of radiation around us today, the air is filled with positively charged ions, which are harmful to our bodies.
The negative ions generated by salt lamps can help reinvigorate you and allow you to breathe much better. When that happens, your mind is able to become clearer and you will also start to realize that your sleep quality gets better and better.
As a decorative lamp, it stands out among all the other lamps in your home as they have a very special shape that looks almost like you carved a piece out from the salt mines and placed it in your living room. The glow from the lamp provides ambient lighting that is perfect for illuminating dark corners or simply enough light in your relaxation room.
Here is a quick summary of the benefits associated with using Himalayan salt lamps:
Eczema Treatment
Respiratory
Sleeping
Detoxing
Allergies
Stress Relief
Pain Relief
Range Of So Well Products
Not only does So Well offer Himalayan salt lamps, but they also make use of the same pink salt to produce several other green products that are beneficial to our health.
This list could be expanded in the future, but for now, here is what you can find on So Well's website:
Fair Trade Himalayan salt lamps
Organic skincare products such as scrubs and masks, cleansers and toners, lotions and creams
Salt therapy products such as bath salts, inhalers, neti pots, essential oils, and massage stones
Gourmet salt for cooking
Bath and body products such as liquid soap, deodorants, body powders, and tooth powders
Matching accessories
What is the pricing of So Well Fair Trade Himalayan Salt Lamps?
One tiny drawback of owning a So Well lamp is that they do cost slightly more than what is commonly found in the market, but I believe it is rightly justified. You see, there are lots of competitors out there that do not have such stringent rules and practices in place, often taking advantage of the people who work the salt mines or the craftsmen who produce these products.
You can also read reviews where you will often see comments that the hue of the lamps are not vibrant, that they start to "sweat" shortly after purchase, or simply do not last long.
The reason for all these is that the quality of the salt used is often compromised and "diluted" in order to keep their profit margins high.
As such, I do not think that it is worth the trouble to save a few dollars for an inferior product. Unless you know the company and how it operates, I would advise you to steer away from these companies, especially if their source is unknown.
With So Well, lamps start from $19.95 at this time of writing. At the other end of the range, you can spend up to $500 for a massive 200 lbs work of art.
You should not miss out on their Hot Deals section where you can find discounted items or check out their promotions page for special deals or giveaways.
Shipping is at a flat rate of $8.95 and all products are insured. That really gives me a peace of mind since they can be quite fragile.
With that said, I'm pretty sure there is something for every budget.
Our Favorite So Well Salt Lamps
[product_lookbook cat="himalayan-salt-lamps" products="8″]
So Well Testimonials
Don't just take our word for it. If you browse through the So Well website, you will see that they have received lots of great reviews from verified buyers. Here's one that really struck a chord with me:
"Hi, I am so enjoying my salt lamps, but I think my cat likes it more. She has a skin condition ( more than allergies)  and she is constantly itching and scratching. I take her to a holistic vet and he has had her on some omega 3 oils and a small pill to help her.
Since I have gotten my lamps, she has stopped itching and scratching, seems very calm and sleeping so well. She was curious about the lamp when I first got it, but now she just lays on the floor somewhere near the lamps and does what cats to best. SLEEP!!! We do bath her with a special soap every 2 weeks. Now I am wondering if maybe the salt soap would be a good thing.
I am going to take some literature about your lamps to the vet.  I know he has other patients that would be interested. I just ordered more lamps for gifts. Thanks"
Final thoughts
I really admire and respect this So Well for how far they have come and the type of work they do. It's a labor of love and it can be seen in their products.
Not only do they make great additions to our home, but they are also excellent gifts as well! How cool is it to gift a friend or family a gift of relaxation?
If you are searching for a Himalayan salt lamp or products, why not swing by the So Well website to take a look too?
I hope you can join me in supporting this loving, ethical, eco-friendly, and fair trade company too!
Other articles that might interest you: