I always remember visiting Grandpa's house. His lame dad jokes (or rather Grandpa jokes) never failed to make me break out in hysterical laughter. 
Till now, I wonder if they were genuinely funny or just plain silly. 
But I digress. 
The other thing that made me look forward to visiting their home was because it was warm and cozy. 
There was nothing flashy or stood out, and it reflected his and Grandma's characters: strong, steady, and silent. 
As I grew older and became somewhat obsessed with wall decor, I began to understand that their style was a traditional one. 
What gives?
The only way this site can exist is through support from our readers. How? By reading and sharing our articles as well as shopping! Yes! There are affiliate links to sites like Amazon, which gives us a small commission when you buy something. The great thing is that there is absolutely no cost or increased price to you, so happy shopping! More details here.
What is traditional style in interior design?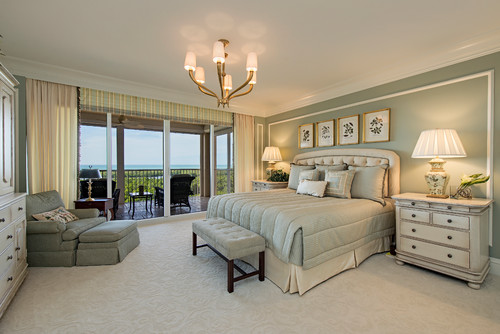 Photo by – Browse bedroom photos
–> SHOP THIS LOOK
You probably have seen it yourself, or might have designed your own home this way.
Traditional style is characterized by its orderliness, its predictability, and how everything seems to blend in and match up seamlessly. 
Some might call it boring and outdated, but it represents calm to me. 
When you step into a place that is traditionally decked out, you will notice that the furniture and decorations used are plain or neutral colored. 
They represent a classic look, none more so than straight lines that are either horizontal or vertical that are punctuated by gentle curves. 
No room for funny looking shapes or objects here.
Common elements you will find in a traditional home are upholstered furniture, formal dining room settings, dark hues and tones, hardwood floors, and classical lamps or sconces.
It's not uncommon to find an antique piece here and there too to add to the flavor. 
I love that you can create a luxurious look that is also warm and inviting. 
Overall, this style really makes the place feel like a home, rather than a gallery.
How do you decorate a wall to be in the traditional style?
I have a few ideas to share with you, and beyond that, I have also found some amazing Traditional Wall Decor that other people have incorporated into their homes. 
To begin, you can consider turning one wall into a feature. What do I mean by this? 
Pick out one wall and turn it into a centerpiece. You can do so by installing wallpaper to this particular section. 
Choose a personalised print, or make use of traditional designs like multi colored florals or dark tones to create a backdrop that can be easily contrasted. I have seen a lot of people set up traditional wall decor behind sofas, often with a large accent wall mirror. That's a pretty nice backdrop for when you are reading your favorite book. 
Another way is to hang ceramic wall plates. They may seem old school, but that's exactly how traditional style is. 
Sconces are also perfect lighting options, as they give off a more classic look that blends well with the design. 
Moving on to the windows, try to select heavy and dark tapestries rather than using blinds or rollers. You can also add in under drapes or wooden valances to bring out the look even more. Talk about window dressing! 
As I always say, you don't need to be a stickler for rules. 
Be sure to add in your own creativity to create something that belongs to you. 
Adding modern elements in is a great option, as you explore the transitional style of interior design. 
How do you choose traditional style wall designs?
Here are some of the key characteristics that you can use as a guide when choosing the types of wall decor to put up: 
17th to 18th century European style
Dark wood finishings
Brown, red and dark green are the most common colors used
Contrast with paisley, floral or plaid accessories such as cushions, wallpaper or even curtains
Add in a piece or two of carved furniture
Invest in an antique art painting
Make use of ceramic pieces such as vases, china and lamps to bring about a luxury feel
I feel at times that traditional style has some overlaps with Scandinavian wall decor, particularly the simplicity and clean look. 
Show me some Traditional Wall Decor Ideas!
1. Beverly Hills Family Dwelling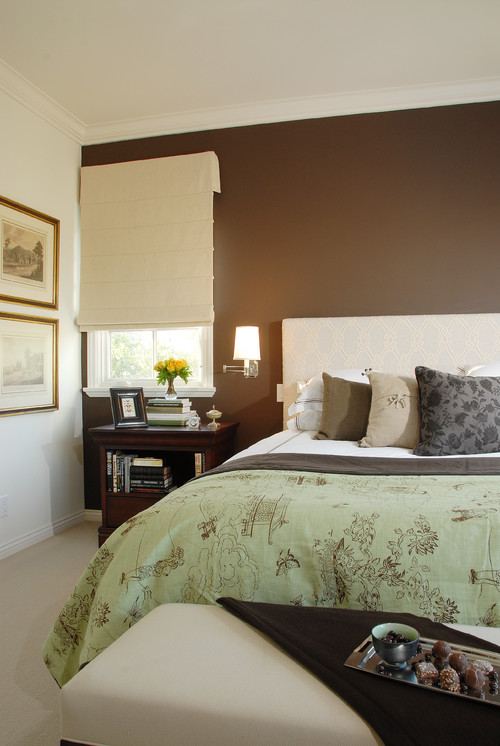 Photo by Annette English & Associates – Search bedroom pictures
–> SHOP THIS LOOK
2. Antique Wood Traditional Bedroom, LA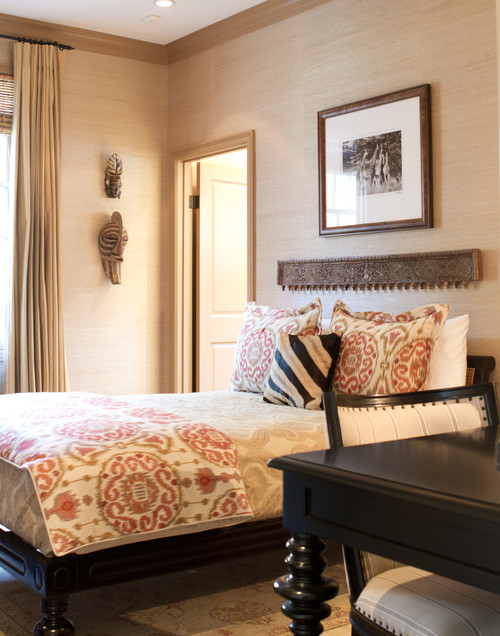 Photo by Erika Bierman Photography – Search bedroom design ideas
–> SHOP THIS LOOK
3. Traditional Family Room Idea, Charleston
Photo by – Search family room pictures
–> SHOP THIS LOOK
4. Traditional Family Room, Minneapolis
Photo by COOK ARCHITECTURAL Design Studio – More family room photos
–> SHOP THIS LOOK
5. Dallas Bedroom Remodel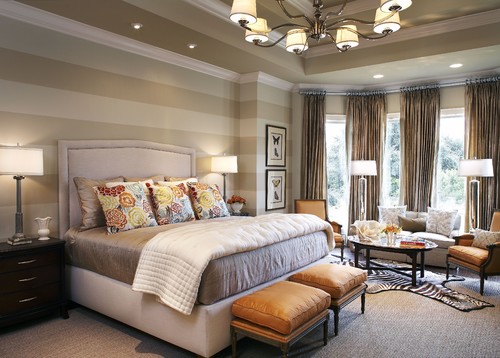 Photo by CDA Interior Design – Discover bedroom design inspiration
–> SHOP THIS LOOK
6. Monte Sereno Traditional Residence
Photo by HKW Designs, Inc. – Search family room design ideas
–> SHOP THIS LOOK
More Traditional Style Wall Decor here!
LOVE this Article? Pin IT!