Sherwin Williams Ghost Pines Review: Beautiful Warm Neutral Paint
So I have gotten asked this question quite a few times by some friends of mine. They wanted to know about the best neutral paint colors to use, and I told them that I have just the perfect answer for them, but they would have to wait for this article. I wanted to put together this Sherwin Williams Ghost Pines review as it is one of my favorite colors from them and it is super versatile.
If you are trying to figure out what color to use for a warm neutral undertone that can really blend in well, the Sherwin Williams Ghost Pines might just be your answer.
[block id="7091″]
---
What color is Sherwin Williams Ghost Pines?
is a neutral light greige (between gray and beige) color that is perfect for using as a base color for your walls.
It is a light shade with a warm undertone that adds a touch of coziness to your home, and it is very light and airy, making your home feel more spacious and open.
Here is a bit more technical information about SW Ghost Pines:
RGB: 213 205 196
LRV: 61.86%
HEX: #D5CDC4
Color family: Warm neutrals
Model number: HGSW2477
Base: Latex
Here's what the color looks like but I can tell you that it is a bit lighter in real life. Check out the photos in the next section for a clearer look at it in actual homes.
Sherwin Williams Ghost Pines review: Benefits and tips
Having a neutral base color in your home allows you to, later on, add in pieces of furniture and decor that will stand out more easily. Neutral colors are also easy on the eye and can suit most people's tastes.
With the Ghost Pines, you can expect a non-toxic latex base which helps to reduce odor. I can't emphasize how important this is to make your home a safe and stink-free environment.
It has a satin sheen, which gives a soft and pearl-like finish, perfect for adding a touch of class to your walls. This particular blend is also great at resisting fingerprints, scuffs, and stains (great for homes with kids and in the kitchen!).
When it comes to the actual paint job, the SW Ghost Pines paint is very easy to apply, and amazingly, it dries off really fast too. According to the company itself, you can expect that the paint dries in 30-60 minutes, though I would give it more time to be sure.
Unlike other paints, cleaning up is a breeze too, With just regular soap and water, you can get rid of any stains that's gotten on your body or the floors.
Just take note though, this paint is strictly for interior use, so don't go around trying to paint on some of your patio furniture!
Examples of how SW Ghost Pines paint look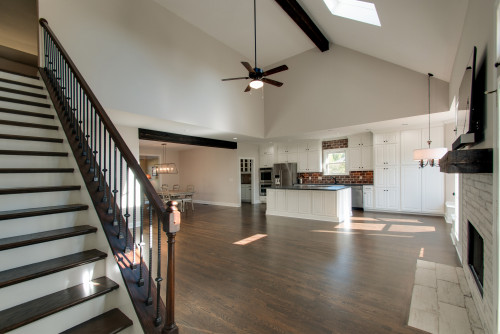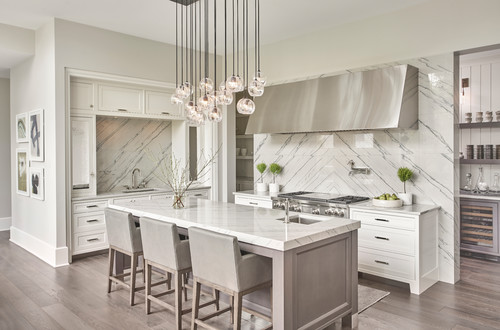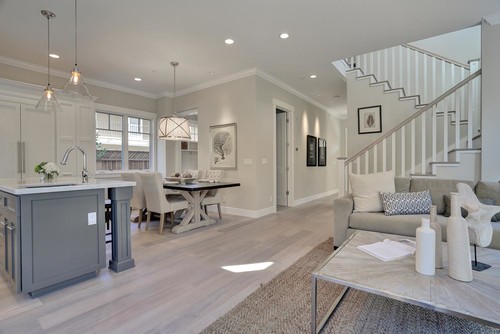 How to identify a paint undertone?
I think most of us have a rough idea of what we want our walls to look like. The thing is, sometimes when we paint them on our walls, they seem to look completely different from the beautiful swatches you see in the showrooms. How is that possible?!
Well, the thing is, paint undertones will play a pretty big part in how it turns out. This refers to the underlying color of the paint. You definitely do not want to pick one that clashes with the other parts of your home such as the counters and flooring.
Ok, so how do you identify the undertones?
In general, there are 2 types of undertones, warm (yellow, beige, pink) and cool (blue, purple, green).
As you can imagine, there will be a noticeable difference when you apply them and can certainly affect the entire mood of the home.
To identify them, use these 3 steps:
Compare it to a true color, one that has no undertone. This should make the paint you have chosen be clearer
Place the paint chip (that strip of paper showing the color) on white paper. This provides a contrast that will let you see which undertones stand out
Look at the darkest color of the paint chip. This will in most cases indicate clearly the undertone of the color range.
How to decorate with warm colors?
Warm colors are variations of red, yellow, and orange. They kind of remind us of the sun or fire. Using these colors as our primary consideration, you can create a warm, cozy, and inviting home for your family and guests.
SW Ghost Pines is a great option to use as the base colors of your wall, and you can easily build on it with the use of natural colored furniture such as a leather sofa.
If you can combine it with a red brick fireplace, that is warmness to the max!
However, if your room is not large or does not receive enough sunlight, you might just want to use warm colors as accents instead.
A lighter neutral such as white or gray can help make the room look more open and spacious.
Pair them up with bright wall art and you have a winner!
Sherwin Williams Ghost Pines vs Agreeable Gray
One of the most popular neutral colors carried by Sherwin Williams is Agreeable Gray, and how does that compare with Ghost Pines?
Well, Agreeable Gray is a shade lighter, but beyond that, they are really similar! They both fall under the same color family, so it is really down to a matter of preference.
How much does the Ghost Pines cost?
Unfortunately, it seems that the only option for Ghost Pines right now is a half pint sample, which costs $3.98 over at Lowe's. The good thing is you can get it for a test drive first for a tiny cost, and it can paint up to 25 square feet. That's not bad actually. I would probably head down to a store or at least call them to find out if they have a larger capacity in store.
In Conclusion
I think the SW Ghost Pines is always one of my top choices when it comes to neutral paint colors with a warm undertone. There are a few other options that you can check out over the Sherwin Williams, and I feel that most will work well as long as you stick to your theme.
Mixing and matching different tones will require some experiment and expertise, something that not all homeowners are willing to go through, so if you have your mind set on a warm cozy home, consider using the Ghost Pines as your base wall color!
Before you go, be sure to download our free wall art printables, as well as learn how you can create your own wall art in minutes.
Here are some of our most popular articles you should not miss!