Best Outdoor Garden Wall Mirror Ideas
Do you have an outdoor garden that needs an upgrade in style? Or you might be thinking of trying to make a small courtyard garden look a bit larger than it is, and bounce natural light to cover the dark spaces and corners.
You have come to the right place as I will be talking about the best outdoor garden wall mirror ideas in this post!
I have seen these types of wall mirrors increasing in popularity over the years, and it's no wonder.
They bridge the gap between indoor living spaces and the outdoors, make your garden look more spacious, and adds a new dimension of outdoor art like never before.
Be sure to stick to the end of the post to find out some additional tips and tricks on how to use these garden mirrors.
[block id="7091″]
[block id="sign-up-for-amazon-prime"]
---
Best Garden Mirror Ideas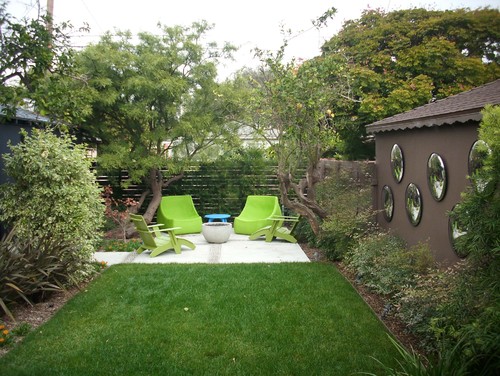 Mirrors can be a great outdoor feature, blending in seamlessly with other ornaments such as your outdoor rugs and cushion and casting their beauty across the backyard.
They can also be a beautiful complement to your painstakingly curated outdoor furniture too.
Especially in the summer, when we are spending a lot more time out there with our family and friends, relaxing on the lawn and enjoying the sun.
I love when the mirrors reflect our living room and kind of bring it out with us.
It's amazing what a garden mirror can do and the illusions it can create, like a window, or simply making the garden look much bigger.
How should you go about decorating your garden with mirrors then? I have a few suggestions that might pique your interest.
Mount mirrors on your fence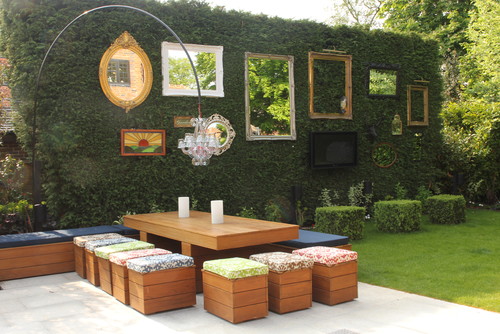 This is a really good place to start since they are mostly unoccupied and provides a large canvas to get creative.
What you can do is to take a mirror from your home to test it out. You are trying to figure out the size and how it looks when mounted on the fence. Does it reflect what you want? Is it visible?
You don't want to be putting up a garden mirror that is too small and does not create any effect.
A tip I have is to try and point them in the direction of your plants so that they can be magnified and creates a kind of green fence.
Using a piece of wood to adjust the angle of the mirror would be ideal, as you don't want a straight reflection. Angles make things more pretty.
Where are the pipes and drains?
Consider the location of these unsightly objects when you are placing your garden mirrors. I don't think anyone wants to reflect these things, isn't it? The lesson here is not to hang a mirror directly opposite them.
Outdoor dining areas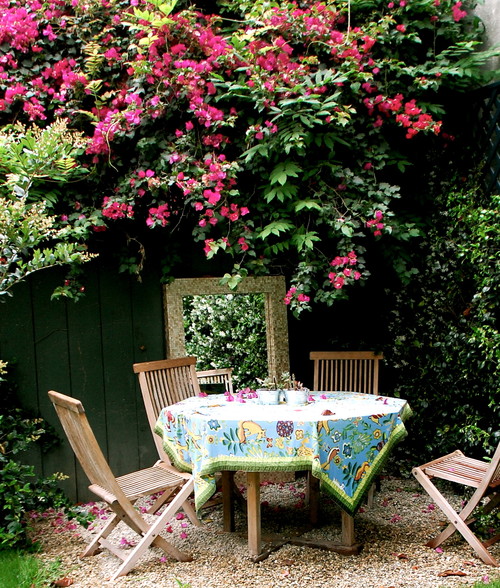 If you have an outdoor dining area, try to install a mid-sized mirror beside the area. I love the effect they create in the evenings when they can reflect the ambient lights of candles and lanterns, and even better if you have a simple chandelier in a gazebo. It really brings out the mood.
Use the same colors on one wall collection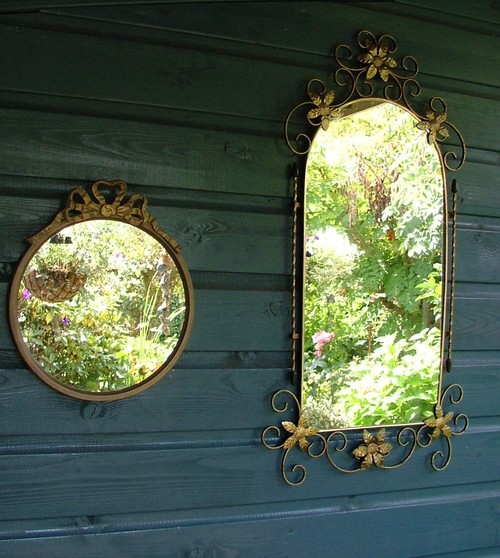 Decorating the fence with a few different-shaped mirrors? Try to keep them in the same color tone as it is easier on the eyes. Although they are different, the color ties them together as one common element.
Surround your garden mirror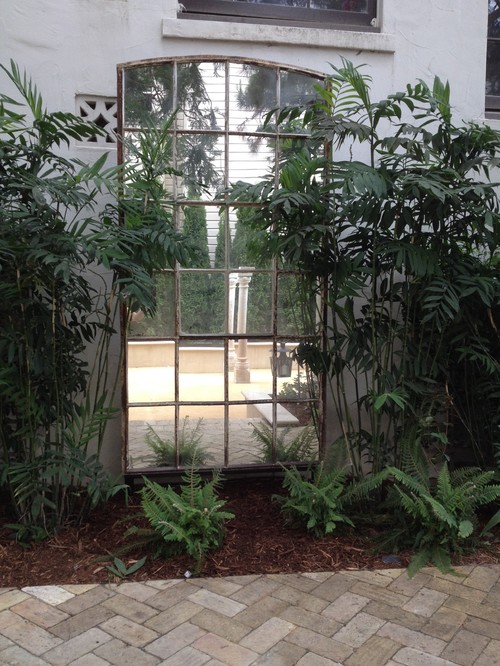 On its own, a garden mirror does not have as much of an effect as compared to one that is surrounded by the greenery around it. You can choose to place them behind an area where there are lots of plants that can add a layered feel to the illusion and give it more depth.
In this way, the mirror also does not look out of place but simply blends into the environment.
Add color to your walls
Are the exterior walls of your home in a boring homogenous color? Or maybe you have a stone wall?
Hang a mirror on it to bring contrast. A white framed wall mirror against a stone wall would do really nicely, and the bonus is that the reflection it creates changes as the seasons come and go.
Repurpose a window frame
If you are in the process of renovating your home, or you are changing out an old window, keep the frame and upcycle it!
Stick on wall sticker mirrors in the place of the glass, give the frame a new coat of paint, and you have yourself a brand new garden wall mirror!
Use wicker wall mirrors
Wicker is simply a process of creating furniture from weaving materials such as vine and rattan. They are mostly created for outdoor use, so this is the perfect opportunity to get the one you have been eyeing!
They last forever and are easy to maintain, perfect for your garden!
Check out our wicker wall mirrors collection here!
DIY mosaic mirrors
Do you have some old mirrors that you are no longer using? Great news, as you can now turn them into a nice accessory for your garden. Take them out and break them into smaller pieces. Now add your favorite colors with acrylic paint and stick them back onto a plain mirror. Voila!
Not keen to DIY? Check out our Mosaic Wall Mirrors Collection instead.
Door to nowhere
No this is not something spooky or sinister, but rather to create a special illusion that there is more space beyond your garden. On a fence, mount a full-length mirror that gives the effect of a door. (You can find lots of ideas in our arch mirrors collection).
Position it so that it is slightly off the ground, and place stone pebbles leading to it.
For the best effect, you definitely want to have some plants surrounding it. Even better? Attach a real door next to it.
Install a gazing ball or globe
These reflective globes have been used for hundreds of years and they are really a special feature in the garden. While they are not traditional mirrors, they do give a similar effect.
In the past, they were used to ward off evil, but today homeowners use them to add style to their outdoor spaces such as their backyard or gardens.
I would recommend mounting them on a unique object that can fit the style of your home. Think wrought iron rack for industrial homes or a distressed wood rack for a rustic home.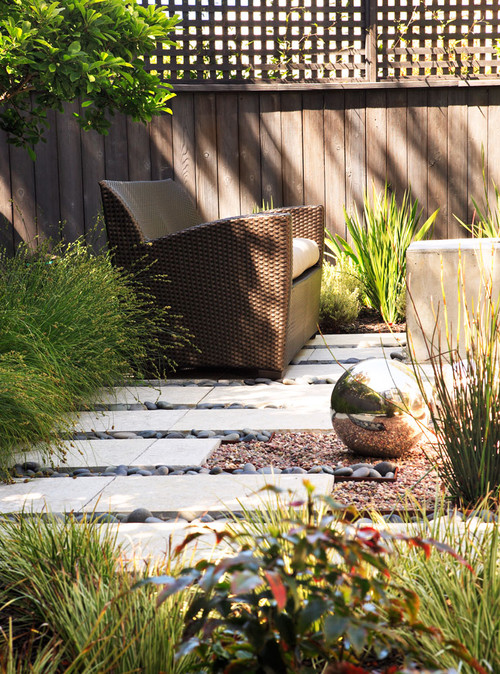 Have flowers? Place a mirror low
Placing small mirrors behind a row of flowers can do wonders to your garden. They put them firmly in the spotlight and accentuate them beautifully.
You know what's really cool? Mirrors can "double" the size of your flower bed, which means that even if you have a small garden, they still look magnificent.
Use a similar design as your indoor mirrors
This may not work for every home, but if you have a large indoor mirror, you can consider placing an identical one outdoors. They bring about a sense of familiarity and "brings" the living room out too.
Sunburst mirrors
Hardly any mirror shines as brightly as a sunburst mirror. They are made to look like the sun and are a great focal point for any feature wall. In the garden, they are at their best as they highlight the sun rays and it's almost like bringing the sun in.
Check out our Sunburst Wall Mirrors Collection.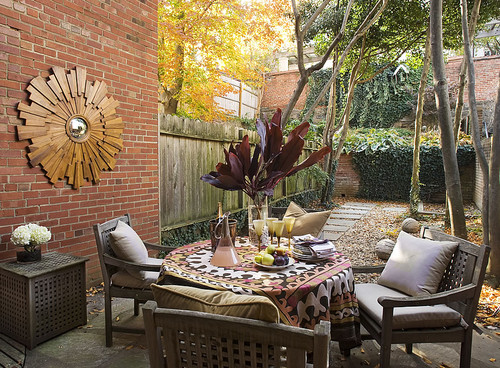 Best Outdoor Garden Wall Mirror Ideas
I wasn't going to leave you hanging without showing you some of our favorite mirrors to use in our garden. It can be pretty tough to shop for a suitable one, so I have compiled a list here for you to check out!
[products ids="15089,17414,15162,15447,16684,15415,16917,12400″]
Garden mirrors safety tips
Using mirrors in the garden is slightly different from using them indoors. For one, they are exposed to the elements so there are some things you need to be aware of.
Take these safety tips into consideration if you are placing mirrors in your garden:
Always make sure that mirrors are securely mounted on fences
Do not simply hook them on as strong winds can blow them off the hooks. I usually use a cable to make sure they stay in place. If you have kids in your home, tell them about the mirrors, especially those that are not secured but rather just leaning on the wall or pots.
Try your best to use materials that can withstand the elements
Metal doesn't do so well outdoors and can rust easily. This can lead to cuts when you are trying to remove them, especially after a long time. If you are using wooden mirrors, be sure to seal them with varnish, lacquer, or polyurethane.
Have birds in mind when you place your mirrors
You really don't want to wake up to an image of a smashed bird on your garden mirror. What you can do here is to stick your mirrors among the plants, away from the flight paths of birds (don't place them too high), or consider frosting the surface of the mirrors. While it is an extremely rare occurrence, we do need to consider the birds' safety too.
Never place mirrors in direct sunlight as they can easily start fires
If you are living in a hot country, hanging garden mirrors might not be a great idea. However, you can definitely take extra care to place them out of the sun. Not only do they have the potential to start fires, but they are also harmful to our eyes too. Since it is the garden, you should be able to easily find shady spots for them.
Frequently Asked Questions About Garden Mirrors
Are mirrors in the garden dangerous?
Not at all if you follow the safety tips I have for you above. Place them away from footpaths, secure those that mounted, and avoid placing them in direct sunlight.
Can you put a normal mirror in the garden?
Normal mirrors come in lots of different materials, and while acrylic and plastic mirrors will do the best outdoors, they kind of look silly and out of place. If you are using mirrors that are not purpose-built for gardens, you can take an extra step to weatherproof them first.
Are garden mirrors different from indoor mirrors?
In most cases, garden mirrors are made with weatherproof materials to ensure longevity. They will last longer compared to indoor mirrors. Indoor mirrors will start to develop black spots in the presence of moisture and the silver backing will wear off, so you need to consider this if you intend to use one in your backyard. That said, your options are considerably wider with regular mirrors.
Where should a mirror be placed in the garden?
There are lots of ways to place mirrors in the garden, but my top methods are creating a door illusion, sticking them among the flowers, and upcycling a window frame. Check out the tips above for more ideas.
How do you weatherproof a mirror outside?
You can do so with a few different methods:
These steps will not guarantee that your mirrors last forever, but they can certainly extend their lifespan. The bottom line here is that if you use regular mirrors in your garden, you have to be prepared they will become damaged quicker than when used indoors. What you can do is to use an old mirror instead of buying a new one. Give them a new life!
Do mirrors break in cold weather?
No, they will not. However, if water gets on the surface and freezes up, there is a chance that it can break the mirror. A solution would be to use thicker glass, but generally, you will not have this problem unless where you're staying is extremely cold.
Can garden mirrors cause fires?
In most cases, they will not, and I have personally not heard of anyone's garden going up in flames due to mirrors. You need to avoid placing them in direct sunlight, as they can cause glare which is harmful to our eyes as well as to birds flying by.
What's next after outdoor garden mirror ideas?
I hope this post has helped you to learn how to correctly place mirrors in your garden as well as pick up a few useful tips.
Check out our posts on how to care for mirrors too, or find out how you can make your own DIY shadowbox mirror, or find unique ideas for your bathroom next.
Here are a few more popular posts:
Be sure to download your free wall art printables too!